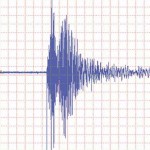 Mahoning Valley isn't the only Ohio area with recent seismic activity
By Karl Henkel, Youngstown Vindicator, Jan. 15, 2012
Youngstown has become the poster city for potential injection-well-induced earthquakes. But the Ohio Department of Natural Resources points to the success of 176 other injection wells throughout the state that have no history of inciting earthquakes. Cue Washington County. The Southeast Ohio county — an area that the ODNR has said is less prone to earthquakes than the rest of the state — hadn't had an earthquake with an epicenter in the county before Oct. 24, 2010.
ALSO SEE:
Youngstown earthquakes raise issues on oilfield wastes from shale exploration
By Aaron Marshall, Cleveland Plain Dealer, Jan. 15, 2012
COLUMBUS, Ohio — A New Year's Eve earthquake that shook homes in Youngstown has set off political tremors across Ohio as officials scramble to reassure the public that an expected flurry of drilling in the state won't jeopardize their safety. Columbia University seismic experts have said the injection of hundreds of thousands of barrels of oilfield waste fluids into a fault line probably caused the quake, one of a series of tremors that have rocked the Mahoning Valley. That finding has cracked open a wider debate that goes beyond the controversial process of hydraulic fracturing, or fracking, to its aftermath: the millions of barrels of waste fluids that are disposed of in wells thousands of feet below the ground. Last year, deep injection wells stored 11 million barrels of the fluids in Ohio.
Courtesy of the Ohio Insurance Institute
https://fayininsurance.com/wp-content/uploads/2014/12/fayin2.png
0
0
ayanna
https://fayininsurance.com/wp-content/uploads/2014/12/fayin2.png
ayanna
2012-01-23 05:25:54
2015-02-10 10:44:17
Mahoning Valley isn't the only Ohio area with recent seismic activity